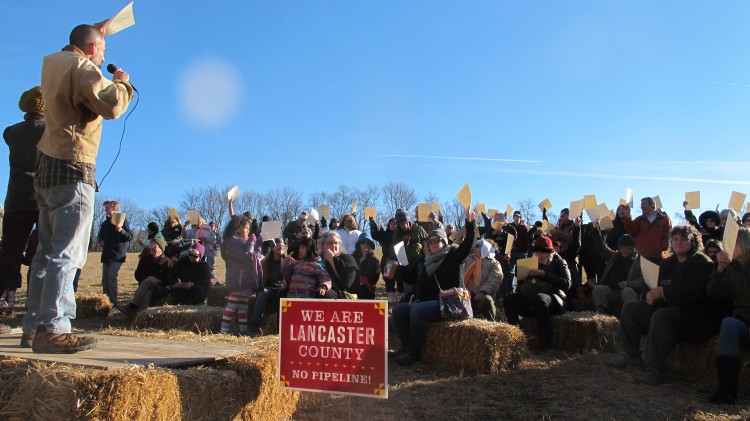 In less than two weeks in office, President Donald Trump is working to usher in a new era for American energy companies. He's begun rolling back efforts to combat climate change and is pushing for federal approval of controversial, new infrastructure projects — such as the Keystone XL and Dakota Access oil pipelines.
There is guarded optimism among fossil fuel companies as they wait and see, along with everyone else, how Trump will deliver on his promises to boost American energy production. But his win has also been a major blow to many environmental groups, climate scientists, and others who worry about the administration's disregard for science and policies aimed at protecting public health and the natural world. They're now steeling themselves for a long, hard fight.
"Unleash massive wealth"
Not surprisingly, President Trump sounds a lot like candidate Trump.
"The shale energy revolution will unleash massive wealth for American workers and their families," he told oil and gas executives in Pittsburgh last fall.
With that in mind, on his first day in office, the Trump administration deleted information on climate change from the White House's official website and posted a new America First Energy Plan—which calls for rolling back environmental regulations, and promoting the further development of fossil fuels, particularly the nation's shale oil and gas. This is good news to people like David Spigelmyer, who heads of the Marcellus Shale Coalition, a trade group representing natural gas producers.
"We're optimistic because we believe that free market enterprise will work, and that energy options won't be taken off the table," says Spigelmyer. "All sources of energy will be given an opportunity to compete."
But the oil and gas industry isn't jumping for joy quite yet, because a lot of what they do is regulated at the state level. As Spigelmyer points out, Trump may seek to eliminate some federal regulations, but Governor Tom Wolf, a Democrat, is forging ahead with new ones.
"We don't see a lot of change from that perspective," he says.
For example, the Wolf administration is working on new rules to combat methane leaks from oil and gas sites– it's a potent greenhouse gas that contributes to climate change.
Stephanie Wissman of the Associated Petroleum Industries of Pennsylvania is among the lobbyists in Harrisburg working to fight those new state rules.
"Make no mistake, we understand and support common sense regulation," she says. "What we have a problem with is duplicative and expensive regulation."
But new regulations, and other kinds of pushback on fossil fuels projects, could keep coming from the states.
"[Trump's] not going to change that, per se," says Joseph Lundy, Chief Financial Officer for Cleveland Brothers Equipment. "But longer term, it's just a positive supporter in Washington."
Lundy's firm supplies a lot of the heavy Caterpiller machinery used in constructing pipelines. He points to a couple recent state-level problems his company has faced. One is the Mariner East 2 project — a natural gas liquids pipeline planned to run across southern Pennsylvania. Construction has been pushed back because state environmental regulators say the permit applications are full of problems, so they haven't given approval yet.
"We invested well over $200 million dollars in equipment that just sat," he says. "We're trying to scramble. How do you manage that, when there's no revenue for this equipment you thought you were going to generate?"
Likewise, New York State's decision last year to deny water permits to another gas pipeline, known as the Constitution, has temporarily halted that project–even though it was approved by the federal government.
"Again– that impacted our ability to mobilize the big investment of equipment we brought in to get started on that project," says Lundy. "And still, that's in the courts."
Big questions remain about how exactly Trump's America First policies will play out. For example, some have questioned whether they could hinder fossil fuel exports.
Case in point is Mexico, which has bought more than half of all U.S. natural gas exports over the past two years. If Trump follows through on threats to levy a heavy tax on Mexican goods, it could result in retaliation from across the border.
Michael Frederick is Vice President for LNG Operation at Dominion Energy, a company that's finishing up work on a multi-billion dollar terminal along the Chesapeake Bay to export natural gas. He spoke about the project during the Hart Energy Marcellus-Utica Midstream Conference in Pittsburgh last week.
While he didn't want to weigh in on his expectations of the new Trump administration, Frederick did say the U.S. needs to look at the big picture.
"It takes a long time to build infrastructure projects," he says. "One of the things we need to improve upon, in my opinion, would be first off, a more comprehensive energy policy."
The "worst case scenario" for the climate
Trump's first weeks in office have also seen a surge in protests. Among those challenging his agenda are environmental activists. Speaking at the same energy conference last week, Alan Armstrong, CEO of the pipeline company Williams, warned of the backlash.
"We've got an administration that's supportive of our business today," Armstrong said. "But that is not changing the opposition we have at the local level, and we're going to continue to see that and it may even enhance it."
Indeed, Williams is already having problems in Lancaster County where opponents plan to disrupt construction on its proposed Atlantic Sunrise gas transmission pipeline. Earlier this month about 200 people gathered to ceremonially rip up a federal report on the project. While throwing its pages into a large bonfire, they accused regulators of downplaying environmental impacts.
"This is for you Williams!" shouted activist Tim Spiese. "No matter where you go, we're gonna be here!"
Spiese is not happy about Trump's win, but doesn't think Democrat Hillary Clinton would have been much better. He believes the U.S. has basically become an oligarchy.
"It didn't matter whether it was the Democrats or the Republicans—corporate America is calling the shots," he says.
Yet he's pleased to see so many like-minded people fired up. They've built two encampments and plan to occupy the area when the pipeline construction begins. He believes Trump's polarizing rhetoric has propelled many people to get off the couch.
Trump's rise to power is the "worst case" scenario for the earth's warming climate, according to Michael Mann, a distinguished professor of atmospheric science at Penn State University.
Mann, who served a Clinton advisor, says if Trump truly wants to make America great, he should stop promoting fossil fuel interests, and embrace the inevitable–a clean energy future.
"That's where the world is headed," he says. "We simply have to decide whether we're going to get on that train now, and be part of the solution, or be left out of the greatest economic revolution of this century."
Trump has called climate change a hoax perpetrated by the Chinese. He also appointed the former Oklahoma Attorney General, Scott Priutt (who sued the EPA to block its efforts to address climate change) to head the agency. And Trump's new America First Energy Plan makes no mention of renewable energy or climate change.
But Mann has seen this movie before. Over the years, he's been one of the most vocal advocates for climate action within the scientific community—which has repeatedly put him in the cross-hairs of an extremely contentious debate.
"It's amounted to getting death threats, receiving all sorts of nasty emails and letters." he says. "There have been actionable threats to members of my family. I had an envelope with a white powder sent to me in my office at Penn State."
Mann says he'll just keep doing what he's been doing—writing books, giving talks, and speaking out. He says Trump's win has energized him, because it's more important than ever that citizens understand science, even if politicians don't.
"Even while they continue to deny there's a problem ordinary Americans are seeing there's something happening," says Mann. "I think that ultimately is going to win the day. it's going force the hand of our policy makers. But make no question—we have to hold them accountable."
Meanwhile, two of Pennsylvania's leading environmental groups recently announced they're forming new strategic alliance. It's in response to what they call an "unprecedented anti-environmental political climate at the federal and state levels."
Larry Schweiger heads the group PennFuture, which is partnering with the Conservation Voters of PA to share policy, advocacy, and legal resources.
"The time couldn't be better," says Schweiger. "Clearly, the environmental movement needs to have a stronger hand in the outcome of elections and needs to give voice to the issues that are at stake."
Conservation Voters of PA Executive Director Josh McNeil says the environmental fights at the state and federal level are gearing up to be massive, as groups work to protect decades of policies to promote clean air, water, and renewable energy.