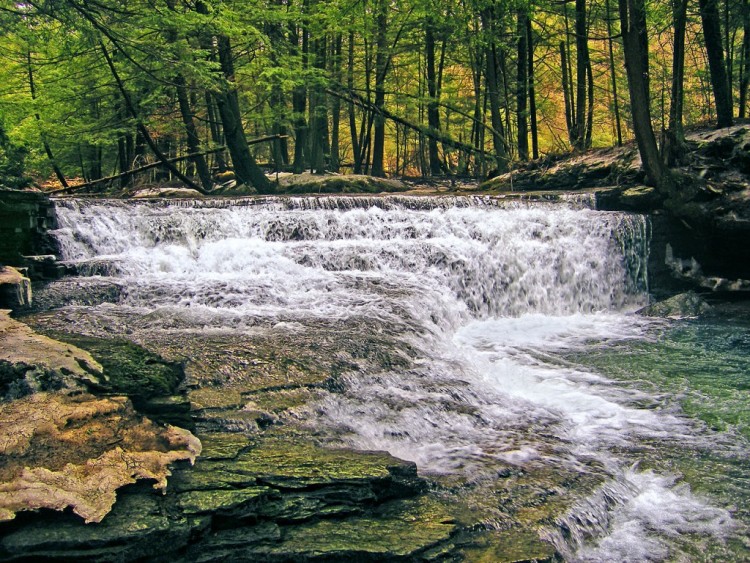 Pennsylvania's award-winning parks could be better if golf courses, hotels, inns, restaurants, amusement parks, water slides, and other outdoor sports facilities were available in them, according to two state representatives backing bills that would open the tent flap to such development.
Rep. Brian Ellis (R., Butler) wants to amend the 1995 Conservation and Natural Resources Act to allow development of those recreational and lodging amenities, along with the establishment of a new, politically appointed Public-Private State Park Partnership Board to propose and oversee development projects.
Rep. Jim Christiana (R., Beaver) introduced legislation Monday to create the Arnold Palmer Trails Program, to obtain a license for use of the Latrobe golfer's name and oversee construction of four in-park golf courses that reflect "the golf course design philosophy of Arnold Palmer."
Ellis' proposal, which was referred to the Committee on Tourism and Recreational Development, drew strong opposition from environmental organizations, which said the park development proposals do not support the conservation and outdoor recreation mission of the parks, and could usurp the professional judgment of park managers.
A letter to committee members from the Pennsylvania Environmental Council and the Nature Conservancy Pennsylvania Chapter noted that the state's 120 parks are "an incredibly valuable asset" providing affordable, healthful outdoor recreation opportunities while "conserving important natural, scenic, aesthetic, and historical values."
The letter noted that the park system attracts 40 million visitors a year, generates more than $1 billion in local spending annually, and has won national accolades.
Jeff Sheridan, a spokesman for Gov. Wolf, said in a statement that the administration was engaged "in productive conversations" with Ellis over his bill. He would not respond to specific questions about concerns that the legislation could be part of a budget deal to sell off development rights in state parks and create a revenue stream, or the widespread opposition to the proposal by environmental organizations.
"Our parks shouldn't be used as piggy banks by the administration or the legislature," said Davitt Woodwell, president and chief executive officer of the Pennsylvania Environmental Council, a statewide environmental organization. "These bills rip at the heart of Pennsylvania's park system."
Lawyer John Childe, representing the Pennsylvania Environmental Defense Fund, sent a letter Wednesday to the governor and legislators warning that the organization could file a lawsuit challenging the constitutionality of the legislation.
Other critics of the bills include PennFuture, the Sierra Club, Conservation Voters of Pennsylvania, Clean Water Action, and the Keystone Trails Association.
"This is one of the biggest attacks on the Department of Conservation and Natural Resources and the state's public lands system in quite some time," said Matthew Stepp, PennFuture's policy director. "It poses significant land management issues. I am concerned it's part of the budget negotiations and that's why it's moving through committee now. It's the only reason that makes sense."
Ellis did not respond to requests for comment. Christiana, whose legislation was referred to the Committee on State Government on Monday, said his bill's introduction is appropriate at the end of the U.S. Open at Oakmont and in the middle of the state budget process.
"The state park system has been stagnant for some time. My bill and the other legislation are ways to increase utilization of our parks, diversify users, and increase recreation opportunities," he said.
He dismissed environmental organizations' concerns, citing "several studies that say golf courses make for a better wildlife management environment" and adding: "They can be developed to protect the environment and make it even better."
Cori Britt, vice president of Arnold Palmer Enterprises Inc., said the corporation, which manages Palmer's brand and name, was unaware of Christiana's bill and had not been contacted by anyone about endorsing the plan or securing rights to Palmer's name.