Contact: Josh McNeil
505-331-1143, Joshua.mcneil@conservationpa.org
Philadelphia, PA – As the clock ticks down on the expiration of the Land and Water Conservation Fund (LWCF) on September 30th, Conservation Voters of PA announced new print and digital ads and a targeted mail campaign urging Pennsylvania's congressional delegation, including Reps. Conor Lamb (D-18) and Keith Rothfus (R-12), to support permanent reauthorization and full funding for the nation's best parks program.
"With 11 days until the Land and Water Conservation Fund expires, we need the entire Pennsylvania congressional delegation to speak up to save LWCF before the clock runs out," said Josh McNeil, Conservation Voters of PA Executive Director. "LWCF has protected memorials, battlefields, and historic sites across Pennsylvania, including Flight 93 National Memorial, Gettysburg, and Independence Hall, to community playgrounds, Little League fields, and swimming pools. Congress must support our parks and not let our most successful conservation program expire."
The ads, which will run on Pittsburgh Post-Gazette, PoliticsPA, and Facebook, and mail pieces highlight LWCF-funded sites in Pennsylvania and encourage members of Congress to vote for H.R. 502, a bipartisan bill that permanently reauthorizes LWCF. Republican leaders in the House have not committed to bring the bill to the floor before LWCF expires.
Reps. Rothfus, Mike Kelly, Scott Perry, Glenn Thompson, and Lloyd Smucker voted for an amendment to the Interior-EPA spending bill sponsored by Rep. Andy Biggs (AZ-05) that would have cut $2.4 million from LWCF. The amendment was rejected decisively, with more than 50 House Republicans opposing the provision. 
LWCF has invested nearly $315 million to protect Pennsylvania's open spaces, historic sites and battlefields, and increase recreation access. From national wildlife refuges and national forests to ballfields and community parks, LWCF has protected places like Valley Forge National Historical Park, Michaux State Forest, Ricketts Glen State Park, Delaware State Forest, and Mt. Pisgah State Park.
While LWCF is funded through revenue from offshore oil drilling instead of taxpayer dollars, Congress has chronically underfunded the program. The Trump administration's recent budget proposals nearly eliminate LWCF entirely, slashing funding by roughly 90 percent.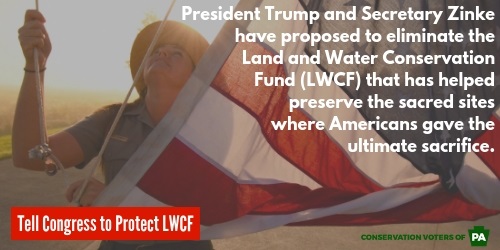 ###